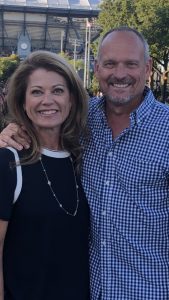 One of our team members has been working hard behind the scenes and it's about time she gets an official introduction! Cindy McCullough is the Vice President of Customer Relations. If you couldn't tell, she is married to our owner, Hank, and they make the perfect team for the entire building process. Hank handles the construction and Cindy communicates and schedules meetings with all of our clients!
When dealing with pre-sale homes, it's important to have someone on your side to book appointments for all the details of an unfinished home. That's where Cindy comes in. She makes the schedule to keep the interior moving along with the rest of the build. This can include the selection of tile, light fixtures, and finishing details. Focusing mainly on kitchen and bathroom renovations, Cindy knows how to guide clients towards what will look best!
Cindy has a colorful mosaic of a background. She used to train horses and is also a Registered Nurse. Now she can be found working on homes, but also enjoys tennis and traveling. You might even find her flirting a little with the boss. 😉
If you want your designs to start moving, you need to talk to Cindy! Give us a call at 919-412-2230 or fill out our online contact form to get in touch.